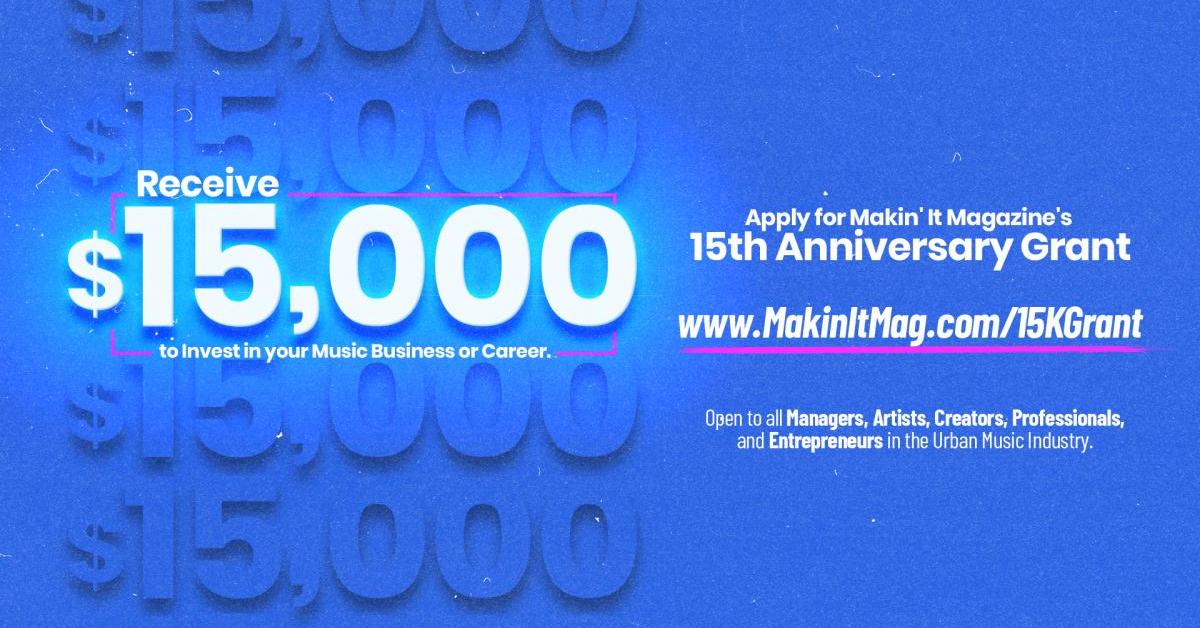 Deadline has Passed
To celebrate our 15th anniversary, we've launched the Anniversary Grant Program to give a $15,000 Grant to an independent creative, professional, or entrepreneur in the field of urban entertainment.
Each month, ONE applicant is selected to receive $1,500 to invest in their music business or career and qualifies to receive an additional $15,000 Grant.
HOW DOES THIS WORK?
Click the link below to submit your application and let us know in 50 words or less, how you would use $1,500 to advance your business or career.
Every application will be reviewed and ranked. Each month up to 15 applicants will be selected for follow-up interviews with one being awarded our monthly $1,500 grant.
WHAT DO I GET?
Subscribers selected for Monthly Grant receive:
$1,500 No-Strings-Attached Grant
Selected subscribers receive a $1,500 Grant to invest in their music business or career as stated in their application. You do not need to repay this money and do not need to give up any ownership or equity in your business or intellectual property.

ONE-on-ONE Strategy Session with a Business Expert
Each Makin' It Magazine Fellow will receive a complimentary half-hour strategy session with a business expert (valued at $250) to help strategize the best way to make the biggest impact on your business or career with the grant funds.

Publicity Campaign and Media Run
Each Makin' It Magazine fellow will be included in the PR campaign to announce their selection. An additional media run, including Magazine Write-ups, Podcast Interviews, Blog Features, etc., will recap their progress and experience.

Be Eligible to Receive our annual $15,000 Grant
All subscribers selected for the Monthly grant will be considered for an additional $15,000 grant awarded in the first quarter of the following year.
WHO IS THIS FOR?
This grant program is open to all professionals and creatives in urban music, fashion, film, and entertainment, including Comedians, Stylists, Event Promoters, Rappers, Singers, Photographers, Videographers, Producers, DJs, Content Creators, Influencers, Managers, Directors, Actors, Engineers, Publicists, and any Entrepreneurs impacting urban culture.
DEADLINE
Applications must be submitted by 11:59 PM on December 15th
REQUIREMENTS
The grant program is open to All Subscribers.