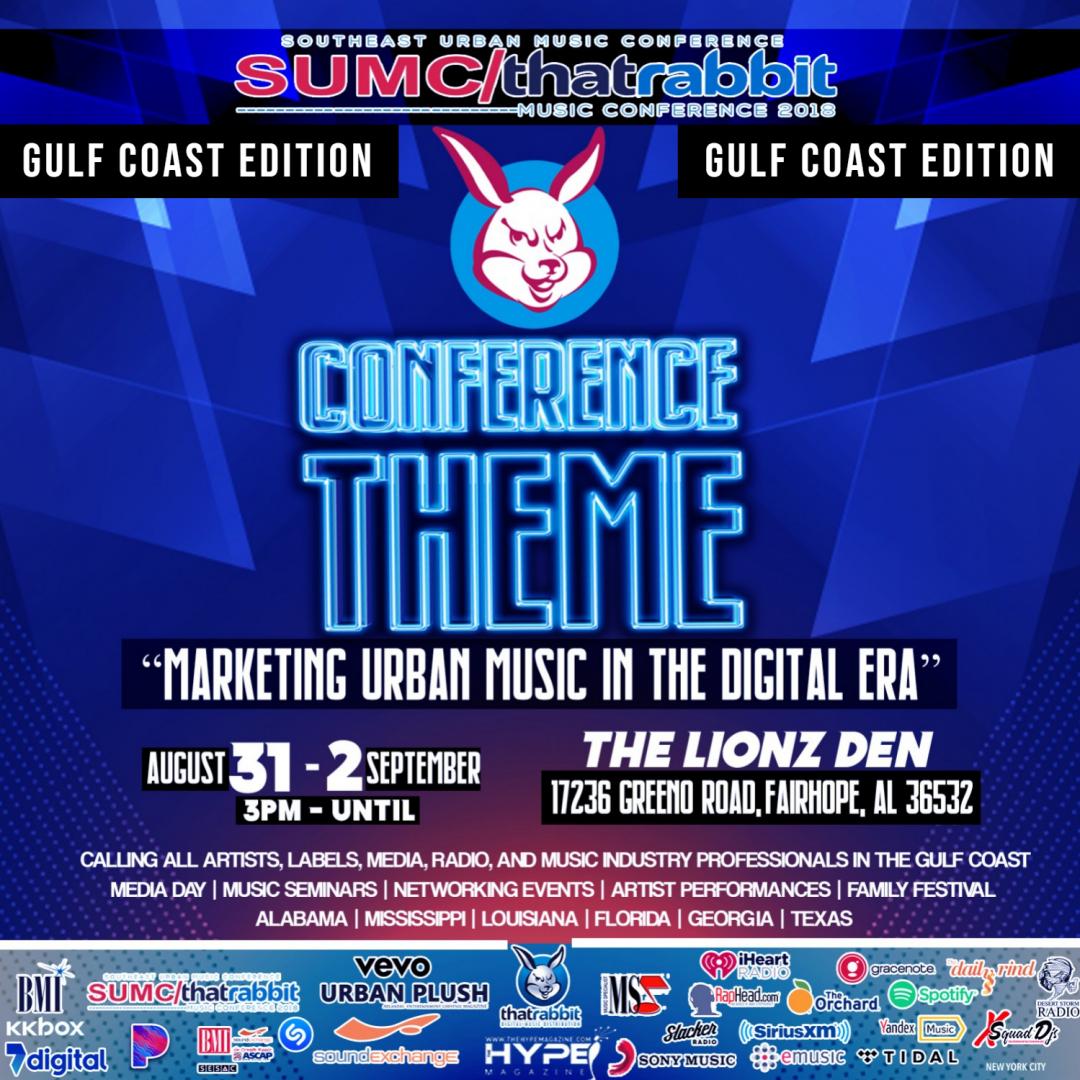 ALL ROADS LEADS TO FAIRHOPE, AL FOR THE SUMC THAT RABBIT URBAN MUSIC CONFERENCE and BLOCK PARTY (GULF COAST EDITION), AUGUST 31 – SEPTEMBER 2, 2018
2018 CONFERENCE THEME
"MARKETING URBAN MUSIC IN THE DIGITAL ERA"
Over the course of the three-day conference, guests will learn how to market urban music in the digital era. They will hear about the latest technology being used in the music business and how to engage an audience. Power seminars will include methods to create a platform and an in-depth discussion of the benefits of digital distribution will be provided. This year's conference will also feature performances from an array of Independent Artists.
Attendees will be provided with information on digital music distribution, technological engagement and platform creation. Daily power seminars will be provided by music industry professionals.
Previous attendees of the Southeast Urban Music Conference:
- Mr. Collipark
- Khujo Goodie
- Bone Crusher
- Big Oomp
- Johnnie Cabbell
- Killer Mike
- Rasheeda
- Young Joc
- Gorilla Zoe
- DJ Drama
- Chubb Rock
- Block Entertainment
- EMI Music
- AllHipHop.com
- Migos
- Patchwerk Studios
- UED Studios
- DJ Big X
- DJ Kutt Throat
- DJ Hershey
- Carl Mo
- Angie Stone
- Street Bud
And plenty more celebrities, major label execs, and major recording artists.
"We look forward to producing a first-class event for everyone attending." he concluded.
To register for the SUMC conference and festival go to https://www.eventbrite.com/e/2018-southeast-urban-music-conference-that-rabbit-music-festival-gulf-coast-edition-tickets-48450940066
For sponsorship, vendor space and performance slots, please call or email 866-652-8882 or sumcfestival2018@gmail.com. Performance slots are limited.
For hotel reservations our sponsored lodging location is:
Holiday Inn Express Fairhope/Point Clear
19751 S Greeno Rd.
Fairhope, AL 36532
Use PROMO CODE: MCE for discount
When:
Fri, 08/31/2018 - 2:00pm

to

Sun, 09/02/2018 - 10:00pm
Where:
The Lionz Den
36532
Fairhope
,
AL
US