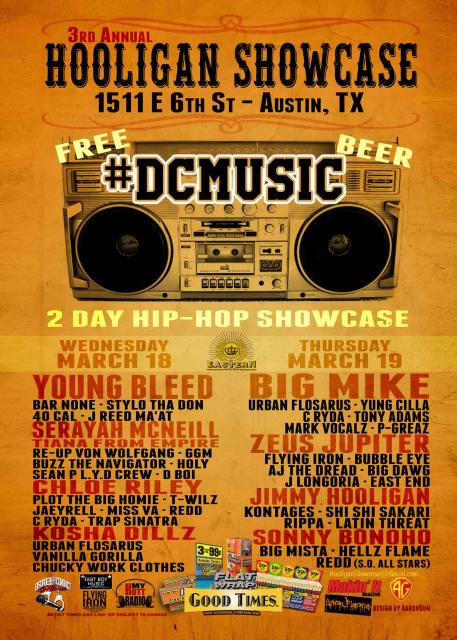 Submitted by
Kim
on Mon, 03/02/2015 - 1:05pm
3RD ANNUAL HOOLIGAN SHOWCASE AUSTIN MARCH 18-19 AUSTIN, TX
For the 3rd year in a Row Hooligan Showcase will be invading Austin, TX.
Artists, fans, and supporters from across the country will join us for one of the largest music festivals in the WORLD!.... Once again we will have Hip-Hop's next stars, Dope DJs, Special Guests, industry taste makers, as well as kickin some old school classics, Free Beer, and more. Did we mention the 70 degree weather?
One thing has changed this year... We have expanded to TWO days!
Due to overwhelming amount of interest we thought why not? Go Big or Go HOME!
Artists get an opportunity for 3 months of free radio promo from MY HOTT RADIO!
Wed- March 18th noon-10PM
Kosha Dillz
Urban Flosarus
P.A.T. Louisiana's Finest
Papawill
Uncle Chess
Jay Smiff
C Ryda
Trap Sinatra
Bar None
Sty-Lo Tha Don
40 Cal
J Reed Ma'at
Sean P L.Y.D Crew
Rippa
D Boi
Buzz The Navigator
Re-Up Von Wolfgang
Holy
GGM
Plot The Big Homie
Miss VA
Redd (S.O. All Stars)
Vannilla Gorilla
Kontages
Zeus Jupiter
Jaeyrell
T-Wilz
Chloe Riley (Slip N Slide)
Tiana (From Empire)
Jimmy Hooligan
Big Mista
ShiShi Sakari
Latin Threat
Chucky Work Clothes
Young Bleed
Thurs- March 19th noon-10PM
"Make A Way out of No Way"
MyHottradio.com
C Ryda
Urban Flosarus
Ghost
Yung Cilla
Bubble Eye
Hellz Flame
AJ The Dread
Big Dawg
J Longoria
East End
Ruka Puff
Tony Adams
P-Greaz
Mark Vocalz
Redd
Kontages
Rippa
ShiShi Sakari
Latin Threat
Big Mista
BIG MIKE
When:
Wed, 03/18/2015 - 12:00am

to

Thu, 03/19/2015 - 12:00am