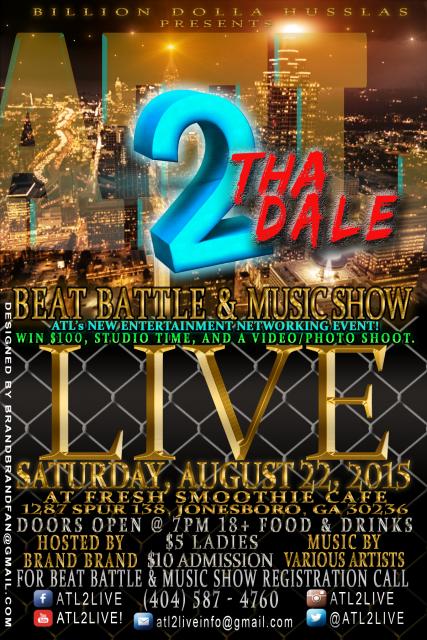 Submitted by
Brand
on Tue, 07/28/2015 - 9:05pm
"ATL 2 Tha Dale" Beat Battle & Music Show Saturday, August 22, 2015
WIN $100, STUDIO TIME, AND A VIDEO/PHOTO SHOOT!!!
To Book Now Contact 404-587-4760 or atl2liveinfo@gmail.com or go to www.facebook.com/atl2live
***$20 to Enter Beat Battle & Music Show***
***$30 to Enter both***LIMITED TIME ONLY***
At Fresh Smoothie Cafe
1287 GA-138 Spur #1
Jonesboro, GA
Be seen and be heard!
ATL 2 LIVE is an entertainment networking event company. We are the home of "ATL 2 Tha Dale" Beat Battle & Music Show. "ATL 2 Tha Dale" brings musical talent from all over Atlanta and other parts of Georgia to Riverdale, This creates a sense of pride, participation and entertainment in the local community because many Riverdale musicians are featured.
"ATL 2 Tha Dale" is an entertainment networking event as well as a music show. Every night managers, video directors, song writers, music producers, visual artists, fashion designers and other creative people, some experts and some just starting out are looking to work with artists who are serious about taking their artistry to the next level.
If you or somebody you know is interested in taking their entertainment careers further by being performing at ATL 2 Tha Dale, contact us by email at atl2liveinfo@gmail.com or call (404) 587-4760 or go to www.facebook.com/ATL2LIVE.
When:
Sat, 08/22/2015 -

7:00pm

to

11:45pm