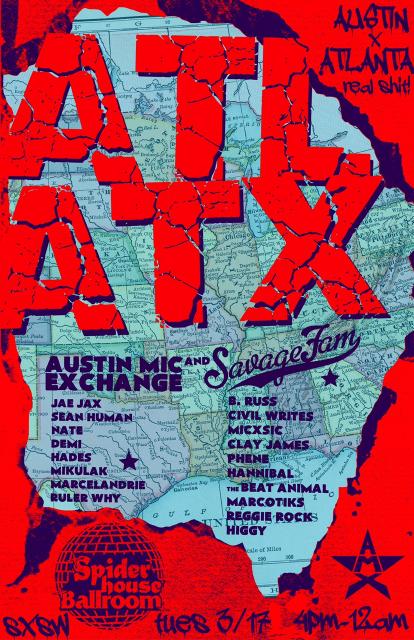 Early arrival suggested
ATL MEETS ATX
SXSW Music Conference week
Tuesday, March 17th 2pm
Spider House Ballroom
2906 Fruth St, Austin, TX 78705
Presented by Austin Mic Exchange (ATX) and Savage Fam (ATL)
This SXSW, two of the biggest forces in underground hip hop unite to bring Austin one of the dopest indie Hip-Hop showcases of the year as ATLANTA meets AUSTIN at Spider House Ballroom Tuesday, March 17th (Doors/Music 4pm).
Featuring:
⚛ LIVE PERFORMANCES ⚛
⚛ PRODUCER BEAT SHOWCASE ⚛
⚛ OPEN INVITE OPEN MIC ⚛
**Open-Mic sign up will be at 5pm on the patio outside of the venue. Arrive early. Slots limited. CD, or USB only. Limit 1 song or 3 minutes. Respect each others time an the stage**
Featured Performers (Performances will be intercut between ATX artists & ATL Artists)
B Russ (ATL)
N∆TE (ATX)
Clay James (ATL)
Demi (ATX)
MICXSIC (ATL) (Check him out on the official SXSW schedule)
Phene (ATL)
Jae Jax (ATX)
Civil Writes (ATL)
Sean Human (ATX)
Producer Showcase (Intercut between ATL and ATX producers back to back to back)
Ruler Why (ATX)
Marcotiks (ATL)
Marcel TG (ATX)
Higgy (ATL)
HADES (ATX)
Reggie Rock (ATL)
Mikulak (ATX)
Hannibal the Beat Animal (ATL)
About the organizers:
Austin Mic Exchange (AMX) is an event company in Austin, Texas founded with the purpose of building and expanding the Austin hip hop scene. Established in 2012, AMX began as an weekly open mic (still running), and has since branched off into multiple events across the city, most notably the Weird City Hip Hop Festival, the first of its kind in the Live Music Capitol. Awarded with a "Best of Austin" award in 2014 from the Austin Chronicle, Austin Mic Exchange continually works to develop opportunities for the often overlooked talent in Austin.
Savage Fam PRO is one of Atlanta Georgia's most admired and respected indie entertainment upstarts in recent years. Originally founded by artist and CEO MICXSIC (Mike Sick) and friends, Savage Fam is a self released music imprint an event production and brand development company. In-house productions include the Atlanta staples', 'The Freestyle Experiment' an all genre open-mic blending live & electronic music elements with on the spot creativity and 'The Bar Exam' Atlanta's definitive talent competition and showcase. Both of which take place monthly at the legendary Apache Cafe in Atlanta. Savage Fam also curates stages annually at A3C Festival in Atlanta. The worlds biggest Hip-Hop Festival
Business and media inquiries savagefamproductions@gmail.com
When:
Tue, 03/17/2015 -

4:45pm

to

11:45pm