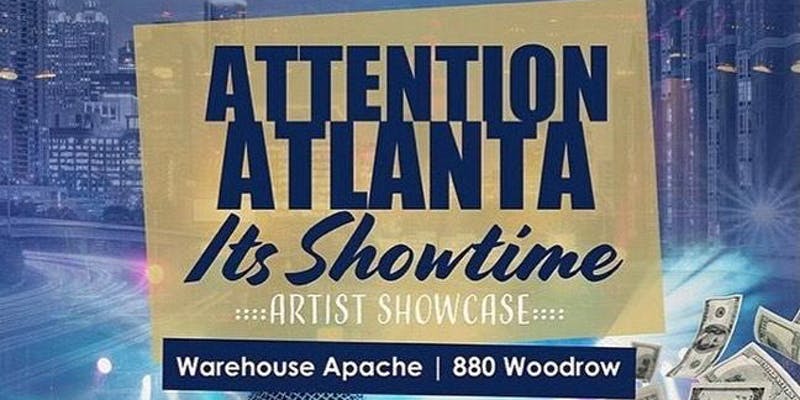 Submitted by
Visitor
on Fri, 09/06/2019 - 12:06pm
It's Heating Up Outside & We still want to know Who wants to #Win $400 at ATL's DOPEST Apollo Style Open Mic 4 Emcees, Poets, Comics, Singers, Musicians, Magicians, etc?!?
#ItsSHOWtimeATL has been going Strong for nearly 10 years at Apache Café. Giving away more than $20,000 over that period of time, but our New Partnership is about to make the experience BIGGER & Better for participating Artists.
The SHOW ATL Radio has partnered with VERY RARE LTD & KREATIVE SOULS, so now you can expect more Industry Execs, Prizes & Performance Opportunities.
Hosted by 89.3 FM WRFG's Ms. Dia & Hollywood Kid!
The Apollo Style Open Mic portion of the show will remain true to it's origin with 2 Simple steps.
1) Artists receive 3.5mins to win over the crowd.
2) The Crowd will select the Winner of the Grand Prize ($400 Cash + a Featured set at the Next Month's show).
Who gets "Boooooeeed" ??
Who goes home $200-400 richer??
FMI – 1(678)861-7469
Limited Spaces.
Register TODAY before it's too Late.
Registration:
$30 for the $200 Prize
$50 for the $400 Prize
$12 to watch << ONLINE TIX
$15 at the door
9:00 pm - 1:00 am
Mature 18+
Looking for a Place to hold your Album Release Party?? Contact Us at 1(678)861-7469
When:
Sat, 10/05/2019 - 9:00pm

to

Sun, 10/06/2019 - 1:00am