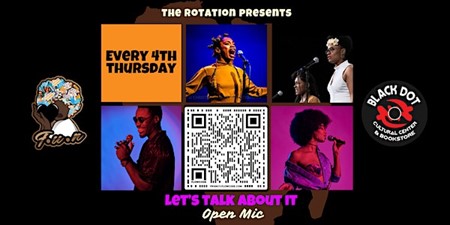 Submitted by
Lyriqnola
on Mon, 10/31/2022 - 7:03pm
The Rotation's Open Mic is back!!
We are welcoming all storytellers to join the stage and share what is on thier minds. Our stage is open to all creatives whether you are a poet, comedian, or would like to share experts from your book with the community! Enjoy Black Dot's great coffee, some light refreshments, a safe space to show up authentically and free parking!
We have also partnered with F.U.N to collect donations for our community as we shift into the winter months. We are accepting coats and personal hygiene products.
See you there!
This site is used for marketing purposes only.
Artists can sign up to secure their spot here
https://form.jotform.com/222854992069166