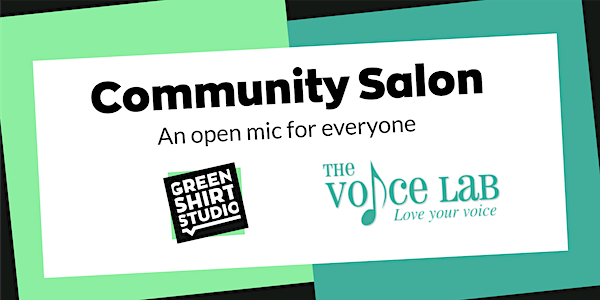 Submitted by
Lyriqnola
on Sat, 01/21/2023 - 12:16am
Community Salons are in-person, intimate performance opportunities to present work-in-progress performances, perhaps expanding on the same idea over multiple shows.
What should I perform?
You're welcome to perform anything under 7 minutes. Even if it's just a spark of an idea, we encourage you to get up to test it out! Tell a story, sing a song, share a monologue, play an instrument, or do a dance. Who knows, maybe your spark of an idea will grow into a great big bonfire.
Types of performances in the past include: Musicians, singer/songwriters, stand-up, storytelling, musical comedy, short plays, dances, and more!
Who can attend?
Anyone is welcome to sign up to attend or perform. We're hosting these events for members of the Green Shirt Studio and The Voice Lab communities but you don't need to be a current or former student to attend or perform. All are welcome! Stick around after the show to mix and mingle with your fellow artists.
Advanced registration is required for anyone in attendance.
Where:
Green Shirt Studio
4001 North Ravenswood Avenue
Studio 303-B
60613
Chcago
,
IL
US