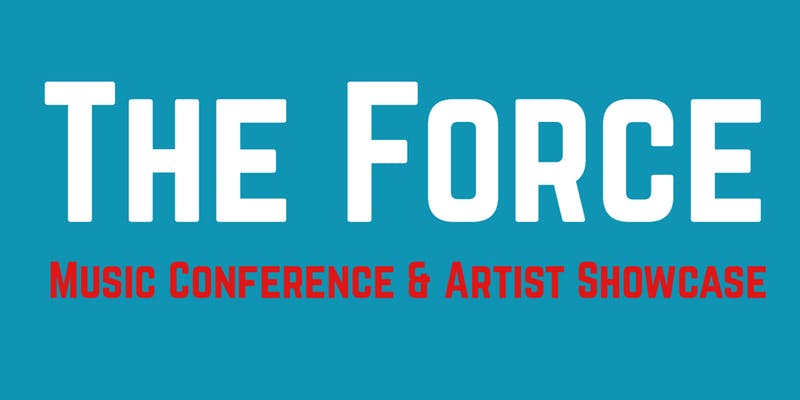 Submitted by
Visitor
on Fri, 09/06/2019 - 11:09am
REGAIN THE FORCE IN YOUR MUSIC CAREER. LIVE SHOWCASES AND PANELS W/SIGNED ARTIST, PUBLICITY AGENCIES, RADIO PROMOTERS, MANAGERS AND A POWERFUL KEYNOTE ADDRESSES BY A FORMER A&R DIRECTOR AND NIECE TO A CIVIL RIGHTS LEADER.
Schedule:
FRIDAY:
REGISTRATION: 4-5:30PM:
RED CARPET MIXER: 5:30-6:45PM
WELCOME MESSAGE: 7PM
SHOWCASE ONE: 7:15 -7:45PM
KEYNOTE ADDRESS ON RADIO: 7:45 - 8:15PM
SHOWCASE TWO: 8:15 -8:45PM
KEYNOTE ADDRESS: 8:45 -9:30PM
SHOWCASE THREE: 9:30 -10:10PM
COMEDY SHOW: 10:30 - 11PM
SATURDAY:
SHOWCASE FOUR: 10 - 10:30AM
PANEL ON PUBLICITY: 10:30 - 11:10AM
SHOWCASE FIVE: 11:10 - 11:30AM
PANEL ON BEING INDEPENDENT: 11:40AM -12:20PM
PANEL ON RADIO AIRPLAY: 12:50 - 1:30PM
SHOWCASE SIX: 1:30 - 2PM
PANEL ON TOURING: 2 -2:45PM
SHOWCASE SEVEN: 3:05 -3:55PM
PANEL ON THE MUSIC BUSINESS: 4:05 - 4:50PM
SHOWCASE EIGHT: 4:50 - 5:20PM
DINNER BREAK: 5:20 - 7PM
VIP RECEPTION: 5:30 - 6:30PM
KEYNOTE ADDRESS: 7:05 -7:45PM
SHOWCASE NINE: 7:50 -8:20PM
KEYNOTE INTRODUCTION: 8:20 - 8:30PM
MAIN KEYNOTE ADDRESS: 8:30 -9:45PM
SHOWCASE WINNER PERFORMANCE: 9:45 -10PM
Confirmed Speakers (Full line up of Speakers and Panelist announced on September 30th)
Matthew Rix is a former A&R Director, Music business success coach & host of the 8 million sale and stream music business series "Mattrix Minute".
Alveda King is an Author, Speaker, Activist and niece of Dr. Martin Luther King, Jr.
When:
Mon, 03/02/2020 - 6:00pm

to

Tue, 03/03/2020 - 10:00pm