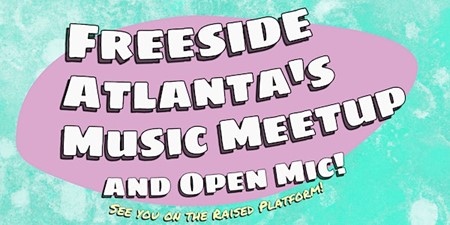 Submitted by
Lyriqnola
on Fri, 05/19/2023 - 11:23pm
Whether you're a seasoned musician with a thing for local music, or a fledgling ukulele player trying to get on a raised platform for the first time, you'll find a microphone waiting just for you at the Freeside Atlanta Music Meetup and Open Mic!
Our DIY open mic space works a little differently than most. We start off the evening with an activity at 7:30 to stretch those musical muscles before you get in front of a mic. Then we proceed into a traditional open mic at 8:30, followed by a free jam!
Every month we change up our warm up activity. If you have an idea for an activity that you'd like to lead feel free to tell us when you get here!
Freeside is a member run space, completely dependent on the hard work and dedication of its members and volunteers. While the event is free, we have a suggested donation of 5-10 dollars in order to keep the event going and to improve the space for future events! While we do not serve alcohol, the event is BYOB so feel free to bring your own drinks (we'll even uncork it for you without the fee! Imagine that!)