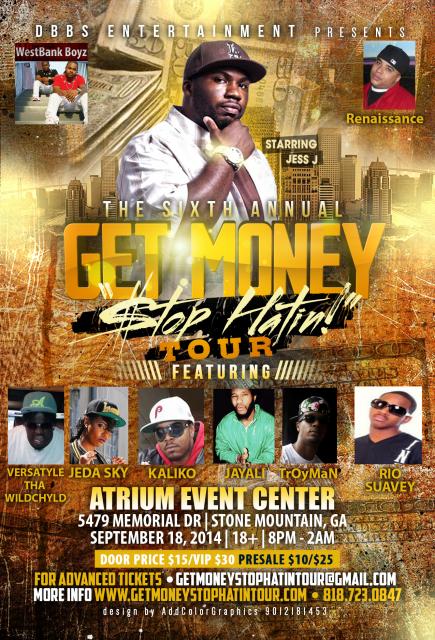 Submitted by
jessjjones
on Tue, 09/16/2014 - 10:45am
September 16th, 2014 (Atlanta, GA) - 'Get Money Stop Hatin', the innovative national tour produced by DBBS Entertainment, is currently undergoing it's 6th consecutive installment. This critically acclaimed annual tour brings 55 concerts in 52 cities this summer starring Jess J (www.JessJJones.com), Jayali (www.Jayalimusic.com), and some of the most talented artists in independent music. G$SH's 6th Annual Event will take place this Thursday, September 18th at the Atrium Event Center in Stone Mountain, GA.
This year is making history again as the premiere platform for showcasing independent artists in the United States. Since the official launch in 2009, this tour has produced over 300 concerts in 80+ cities with over 125,000 concert attendees.
The G.M.S.H. Tour was designed provide opportunities for independent artists to be consistently seen and heard in cities all over the United States that would not normally be accessible to them. Whether it's Atlanta, Miami, Chicago, New York, Las Vegas, etc, any artist can participate.
Artists interested in joining the tour or performing at any of the dates listed below, contact getmoneystophatintour2014@gmail.com for details. (Send your artist name, contact info, city of residence, and show date(s) interested in.)
Ten percent of all merchandise sales and ten percent of all proceeds from each tour date will be donated directly to people in need through the G.M.S.H. Tour G.U.A.R.D. program. Go to www.getmoneystophatintour.com and click on the G.U.A.R.D. tab for more information.
2014 Tour Dates
June 6th – The Nest (Salem, OR)
June 9th – El Corazon (Seattle, WA)
June 10th – Checkerboard Bar (Spokane, WA)
June 12th – The Badlander (Missoula, MT)
June 13th – Diamonds Event Center (Jerome, ID)
June 15th – Burt's Tiki Lounge (Salt Lake City, UT)
June 17th – Leo's Nightclub (Albuquerque, NM)
June 20th – The Pit Stop (Denver, CO)
June 21st – Merchant's Mile High Saloon (Denver, CO)
June 25th – Boomer's Bar (Las Vegas, NV)
June 26th – Big Fish Pub (Phoenix, AZ)
June 29th – Kava Lounge (San Diego, CA)
July 3rd – M&B Lounge (Arlington, TX)
July 5th – 1944 Broadway (Oakland, CA)
July 5th – Hailey's (Denton, TX)
July 7th – Amped (Austin, TX)
July 8th – Kick Butt Coffee (Austin, TX)
July 9th – Arjon's Club (San Antonio, TX)
July 10th – Jet Lounge (Houston, TX)
July 12th – DJ's Club Elite (Baton Rouge, LA)
July 17th – Little Gem Saloon (New Orleans, LA)
July 18th – Aji's (Memphis, TN)
July 20th – 521 Café (Little Rock, AR)
July 23rd – Fubar STL (Saint Louis, MO)
July 26th – Bobby McGees (Chicago, IL)
July 27th – Frank's Power Plant (Milwaukee, WI)
July 30th – Fubar STL (Saint Louis, MO)
August 1st – Jerry's (Chicago, IL)
August 14th – The High Note (Birmingham, AL)
August 15th – Soul Wired Cafe (Jackson, MS)
August 17th – The End (Nashville, TN)
August 20th – Long Branch (Knoxville, TN)
September 13th – Little Fish Huge Pond (Orlando/Sanford, FL)
September 16th – The High Dive (Gainesville, FL)
September 18th – The Atrium (Atlanta, GA)
September 21st – Club Forty 7 (Huntsville, AL)
September 23rd – King Dusko (Charleston, SC)
September 24th – The Pour House Music Hall (Raleigh, NC)
September 26th – Good Stuff (Marshall, NC)
September 28th – Muncheez Bar & Grill (Beckley, WV)
September 30th – Tree House Lounge (Washington D.C.)
October 1st – The Legendary Dobbs (Philadelphia, PA)
October 4th – The Place Bar (Brooklyn, NY)
October 5th – Tobacco Road (New York City, NY)
October 7th – Electric Haze (Worcester, MA)
October 8th – Davis Square Theatre (Boston, MA)
ABOUT DBBS ENTERTAINMENT
The 6th annual 'Get Money Stop Hatin' tour is produced by DBBS Entertainment. DBBS Entertainment is a record label & management company that specializes in music distribution, artist development, artist management, event planning and promotions. Since 2005, we've produced over 500 concerts in the United States with a multitude of artists ranging from superstars such as Lil Wayne and Young Jeezy to notable names in Hip Hop like Paul Wall and Shawnna.
For more information, contact:
Jess Jones
DBBS Entertainment
818-723-0847
GetMoneyStopHatinTour@gmail.com
www.GetMoneyStopHatinTour.com
www.DBBSManagement.com
###
When:
Thu, 09/18/2014 - 9:00pm

to

Fri, 09/19/2014 - 2:00am