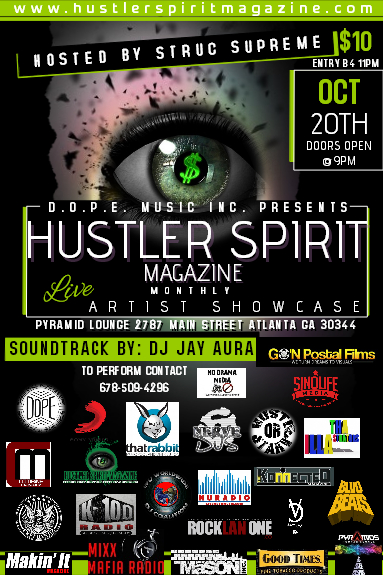 Hustler Spirit Magazine presents it's monthly artist showcase in Atlanta, GA. A multi-genre showcase providing a platform for independent artist to gain exposure and build a strong network of connections in the music industry. Unlike most showcases this event provides edutainment, prizes, and giveaways to the contestants. A fusion of art, music, and models. We have already confirmed 3 media outlets, 5 radio stations with a live remote broadcast, and one television show to be in attendance at the showcase. We also will have multiple industry execs, A&R's, radio reps, producers, investors, brand ambassadors, managers, promoters, bloggers, magazines, videographers, photographers, and other independent artist.
With a "best performance" winner at the end of the night receiving over $1,000 in prizes geared to help their career. "Best Performance" is judged by a clap-off from the audience.
SPECIAL GUEST JUDGES:
Mac Pill [Exec. Director A&R Brick Squad Monoply]
TONE! The GOAT [Recording Artist, Engineer for the Stars, Brand Ambassador]
DJ Cat-X [CEO of MixxMafia Radio, Mix DJ for 12 different independent radio stations]
Fenni Casino [CEO of Sinolife Media, Artist Consultant, Artist Management]
White Iverson [CEO of Grind Gang Empire, Artist Management, Booking Agent for the Stars]
SLOTS ARE LIMITED!!!! SLOTS ARE LIMITED!!!
Brought to you by Hustler Spirit Magazine x D.O.P.E. Inc.
Do you have what it takes to rock the crowd and impress the judges? Come find out!!!
Winner [Best Performance] receives:
- Digital Distribution Single Deal courtesy of Thatrabbit.com / Sony Music (must be registered with BMI, ASCAP, or SESAC & Soundexchange)
- Open up for YOUNG DRO Oct. 22 in Wadley, GA at Club 252
- 1 beat/instrumental (courtesy of BLVDBeats.com)
- 1 page magazine write up (courtesy of Combine Magazine)
- 1 exclusive track/instrumental (courtesy of League of the A.R.T.S.)
- 1 month of social media promo (courtesy of Hustler Spirit Magazine) SPIRITED HUSTLER PACKAGE
- 1 Artist E Blast to over 5,800 industry contacts
- Live interview and radio spins on Nu Radio Station
- Live Performance opportunity at selected venue in Atlanta (11/17/2016)
- 1 month radio rotation on 12 different stations (courtesy of DJ Cat-X)
- Performance opportunity at #WeOnDigital Industry Night (10/28/16)
- 1 magazine write up in Hustler Spirit Magazine November online edition
- 1 on 1 Free consultation (30 mins) courtesy of Sinolife Media LLC.
- Free clothing (courtesy of Canvas Made Clothing)
WINNER TAKES ALL!!!
HOST: STRUC SUPREME @strucsupreme
MUSIC BY: DJ JAY AURA
4 MORE INFO, TO PERFORM, or MEDIA PASSES 6785094296
Where:
Pyramid Lounge ATL
30344
Atlanta
,
GA
US