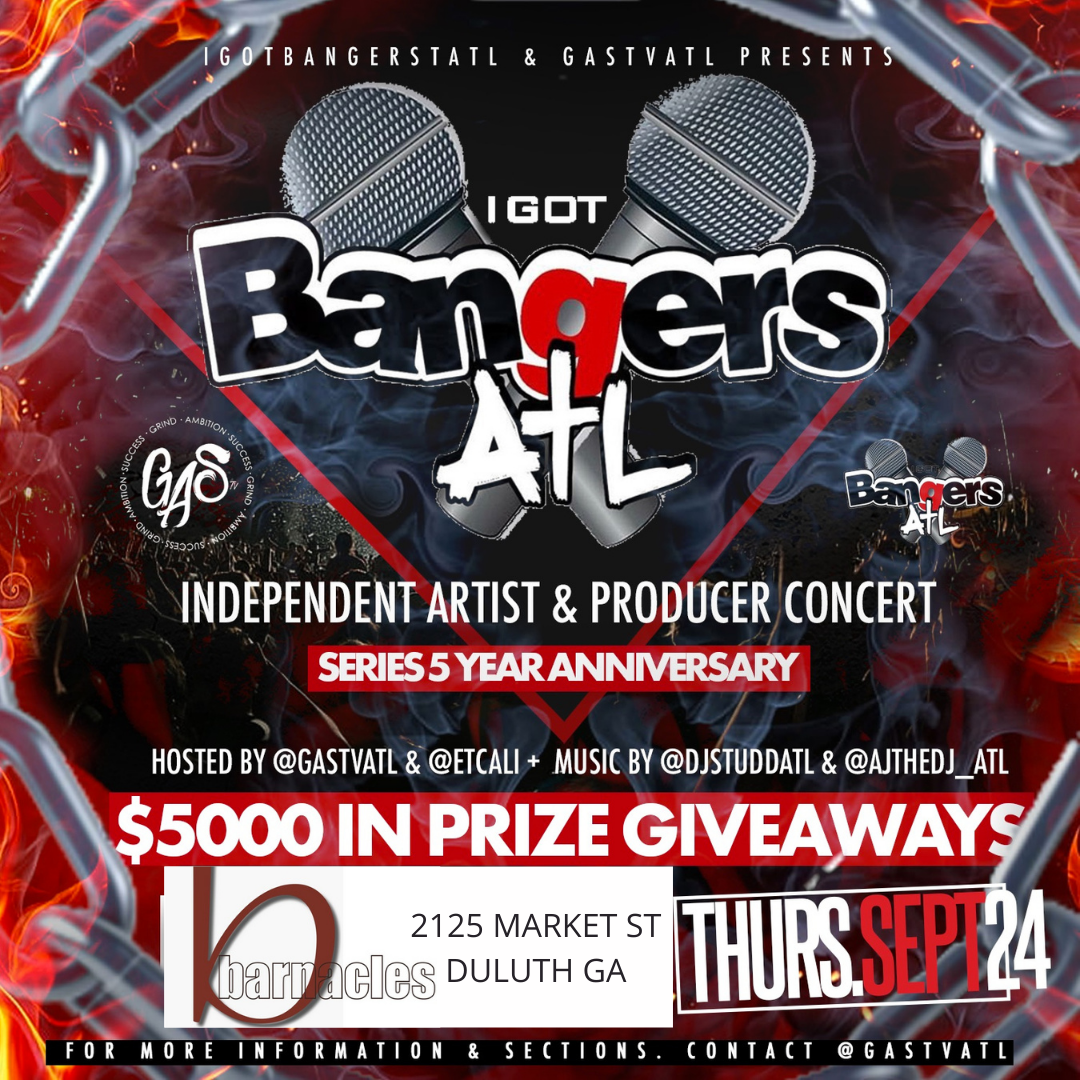 Submitted by
Tone UPC
on Sat, 09/19/2020 - 6:45pm
INDIE ARTIST and PRODUCER CONCERT MEDIA & INDUSTRY MIXER iGOT BANGERS PRESS RELEASE
iGotBrands & Tone Mr.UPC is taking over the city of Atlanta again with his indie artist showcase
industry mixer and community giveback iGot Bangers.
Atlanta, GA- With indie artists showcases galore in Atlanta many rising artists are saying beware of the
shenanigans but iGot Bangersis an indie artist showcase, media &industry mixer for the Atlanta market
to be aware of. Thursday, September 24th, 2020 Tone, Mr.UPC is taking over the Atlanta streets with his
showcase iGotBangers.
The event will take place Thursday, September 24th, 2020 at Barnacles Duluth sports bar and lounge (2125 market st duluth,ga ) 8pm - 3am. The showcase is geared to highlight artists in the Atlanta circuit who are
motivated and investing into their career. Tone had a vision and now it is all becoming reality. Being a
strong community advocate and invested in helping the underdogs of this industry the structure of this
event has created a supreme essence of which Atlanta has seen. The showcase will consist of numerous
artists from all sectors of Atlanta and even a few outskirts.
The previous showcase involved a few special guest artists BriBiase, Strap Da Fool, Eurogotit, YFN Kay, Elitenoel, Damar Jackson and Super Producer Banglash and more celebrity judges from all three main urban-circuited stations in Atlanta. The surprise guest judges included: Ferrari Simmons and Fly Guy DC
(Streetz94.5), The DurttyBoyz J Nicks and Shorty Mack (Hot 107.9) and ET (The Beat ATL 92.3
96.7). The iGotBangers EP was also release the night of the showcase. The EP was hosted by DurttyBoyz
DJ Tonee and DJ AJ. We was pleased to announce our official liquor sponsor was Happy Juice, our
product sponsors, which include free beats given away from 30 Roc (Ear Drummers),Makin It Magazine,
OYL Studios, apparel from Local Trap Star, Dope Dreams, Founding Fathers and media sponsors galore
fromK100, Urban365, Highly Unique Radio, WSTU Radio, A&R's and more. We invite you to join the fun
and festivities.
For more information regarding the event please contact Tone (404)-488-8255 - GASTVATL@GMAIL.COM .
Where:
BARNACLES DULUTH
30096
DULUTH
,
GA
US