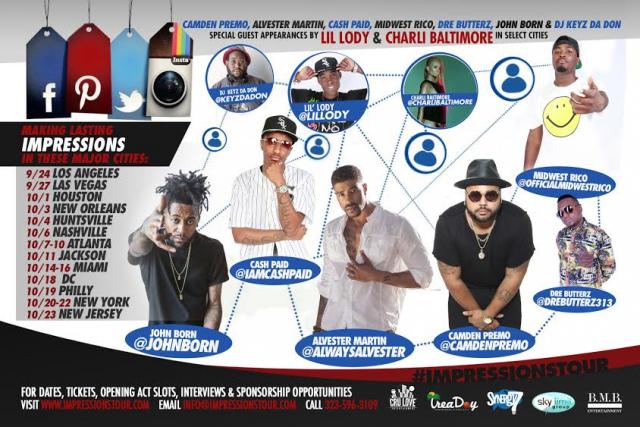 The Goal: 30 Million Impressions in 30 Days. Indie hip hop and R&B artists will embark on a 13-city tour across the United States as a live social experiment to get in front of as many eyeballs as possible (i.e. impressions). Tour organizers realize that ATTENTION IS THE NEW CURRENCY, powered by social media channels, the 2014 Impressions Tour will use music as the influencer to converge brands and fans; then leverage that ATTENTION to bring awareness to social causes that include texting and driving, cyber bullying and education and technology.
According to Tour Manager/Producer Carrington Bester, "The Impressions Tour stands to revolutionize the ways in which media, entertainment, commerce and society will interact for generations to come...NO PRESSURE!"
2014 Impressions Tour acts available for on-site interviews include B.M.B Records' Lil Lody, Cash Paid, Midwest Rico and Dre Butterz, as well as Cru Love rappers Camden Premo and John Born with DJ Keyz Da Don, and breakout R&B act Alvester Martin of Sky Limit Group.
Who: B.M.B. Entertainment, Sky Limit Group and CruLove powered by Trea Day Management & Publicity and Synergy7
When:
Wed, 10/08/2014 - 12:00am
Where:
Trea Day Publicity & Management
info@impressionstour.com
http://twitter.com/impressionstour
30303
Atlanta
,
GA
US