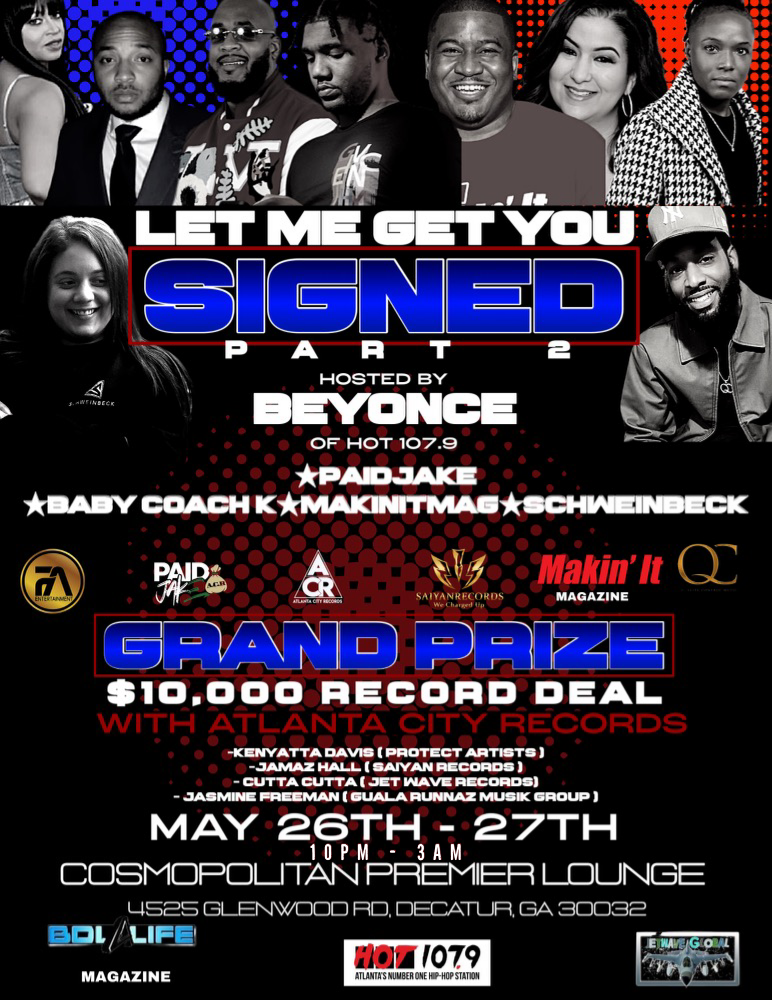 Submitted by
PaidJake
on Thu, 03/18/2021 - 9:58am
GRAND PRIZE: $10,000 RECORD DEAL WITH ATLANTA CITY RECORDS
CALLING ALL HIP-HOP, R&B, ANY GENRE OF TALENT WELCOME, COME GET EXPOSURE
PROFESSIONAL VIDEOGRAPHER WILL BE TAKING FOOTAGE OF THE NIGHT.
VARIES MUSIC EXECUTIVES, DJ'S, PROMOTERS, AND RECORD LABELS WILL BE IN ATTENDANCE.
IF YOU'RE LOOKING FOR EXPOSURE TO OVER 1000+, THIS IS THE PERFECT OPPORTUNITY.
TO PERFORM CALL : (470)-519-2817
SPECIAL GUEST & THE JUDGES:
-QUALITY CONTROL MUSIC BABY COACH K,
-MAKIN IT MAG
-SCHWEINBECK
-KENYATTA DAVIS ( YAYA)
-JAMAZ HALL
-CUTTA CUTTA
HOSTED BY: HOT 107.9 BEYONCE
When:
Wed, 05/26/2021 - 9:45pm

to

Fri, 05/28/2021 - 2:45am