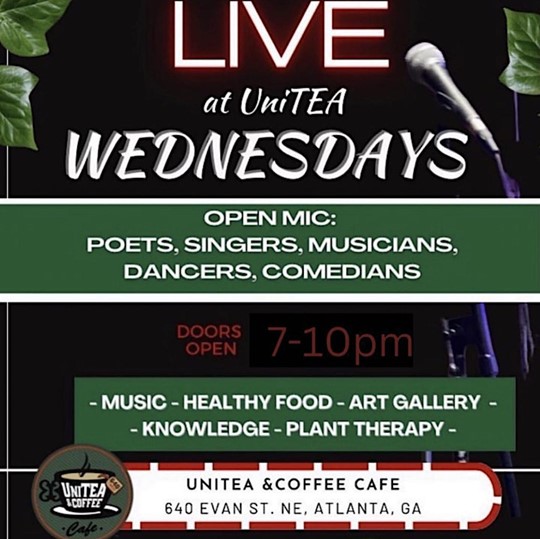 Submitted by
Lyriqnola
on Wed, 11/23/2022 - 12:37am
Calling all poets, singers, comedians, even dancers! It's Open Mic Night every Wednesday at @uniteacafeatl #utc640. Come jam out on stage or enjoy the show from our plant therapy lounge. There will be a late night menu available and tobacco-free hookah to complete the vibe.
Door open tonight at 6, following our Wellness Wednesday class!
SIGN UP:
All participants entry is covered & will be checked in at the door.
Sign-Up & Check-in is ideal before 6:45 to ensure a organized flow
Photo & Video waiver signed for social media marketing
Feel free to contact us if you have any special request or accommodations needed for your performance, and we will assist best we can.
Where:
UniTEA & Coffee Cafe
30310
SW Atlanta
,
GA
US