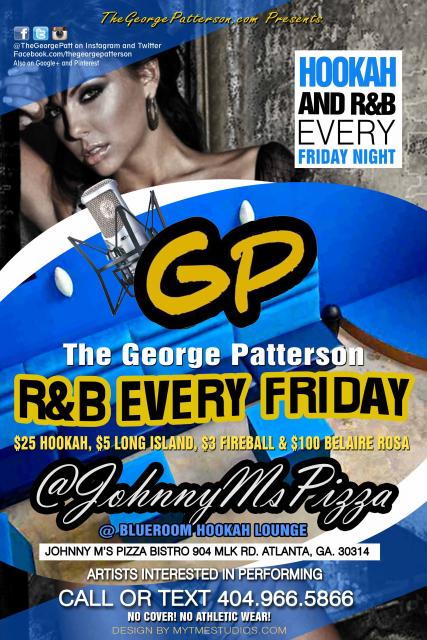 This is TheGeorgePatterson.com R&B Showcase and Networking event.
Singers! Come get a 10 minunte set at our R&B showcase and industry night. We will also provide social media promotion and we are video taping it for Youtube.
Managers, A&Rs, models, singers, songwriters, writers, directors, stylist, poets, rappers, actors, producers, beat makers, engineers, musicians, DJs and everyone else should come have a great time and network
Only singers will be performing. But everyone's invited. There is no cover to get in.
Show starts at 7pm. Come network and start the year off right. Last week was a good turn out. A lot of industry people were in the building. It'll only get better from there. Come through!
$25 hookah!!! $5 long islands!!! $3fireball shots!!!! $100 bottles of Rose
Please call text or email if you have questions, comments, or concerns
404-966-5866
thegeorgepattersoninfo@gmail.com
RSVP here
https://www.eventbrite.com/e/the-george-patterson-rb-music-showcasenetworking-event-tickets-15394422131
Artist Pre register here
http://www.thegeorgepatterson.com/new-products-1/jan-30-registration
Where:
johnny M's Pizza Bistro
30314
Atlanta
,
GA
US