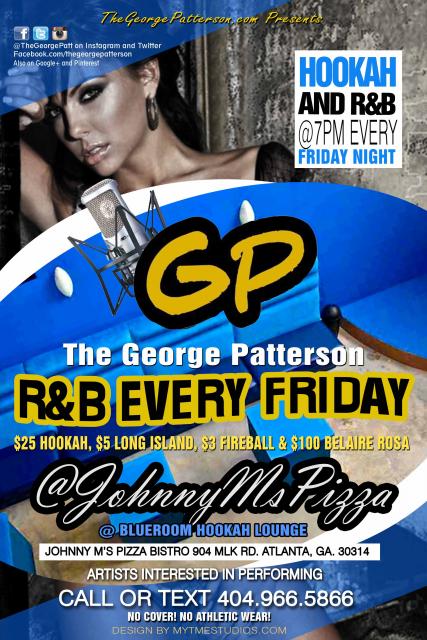 Calling All industry Folk:
Managers, A&Rs, models, singers, songwriters, writers, directors, stylist, poets, rappers, actors, producers, beat makers, engineers, musicians, DJs and anyone else.
We are having industry night at Johnny M's Blue Room Hookah Lounge. Only singers will be performing. But everyone's invited. There is no cover to get in.
Show starts at 7pm. Come network hear great indie singers perform or be apart of the performance. Last week was a great turn out. A lot of industry people were in the building. It'll only get better from there.
Stop By. And Singers contact me ASAP to perform. Or go ahead and pre register. Registration includes a video taping of your performance for youtube as well as social media promo. call or text 404-966-5866 if you have any questions.
http://www.thegeorgepatterson.com/new-products-1/
Everyone else please RSVP here. Free entry. and not necessary but it helps
https://www.eventbrite.com/e/the-george-patterson-rb-music-showcase-tickets-15491854554
Bring your business cards!!!!!
Johnny M's Pizza Bistro
904 Martin Luther King Junior Drive Northwest
Atlanta, GA 30314
$25 hookah!!! $5 long islands!!! $3fireball shots!!!! $100 bottles of Rose
When:
Fri, 02/06/2015 -

7:00pm

to

10:15pm