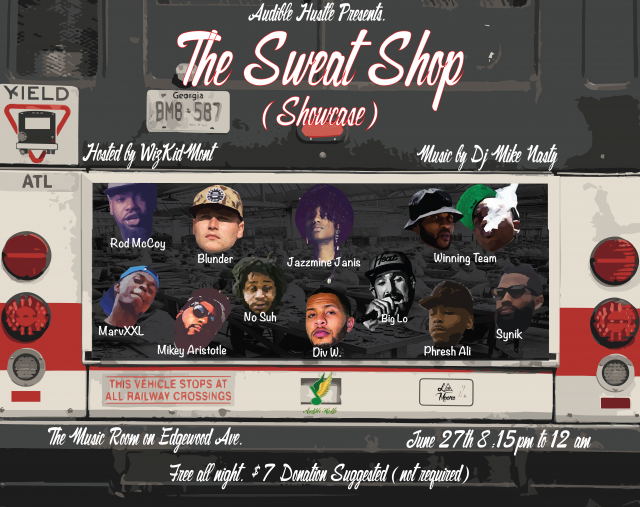 Submitted by
Horus Gump
on Mon, 06/01/2015 - 9:21pm
Although considered by some to be the capital of the "turn-up" - ATL is also home to a vast amount of
talented, lyrically gifted and thought provoking emcees. The nostalgia of retro southern hip hop will
forever live on through artists such as Outkast, UGK and others but the new wave of artistry within the
city isn't slouch by any means. #TheSweatShop will bring together both these extremely dope Atlanta
based talents as well as gifted artists from throughout the east coast. Featuring acts such as Synik & Rod
McCoy, Mikey Aristotle, Big Lo, Jazzmine Janis, Div. W and more!
The goal of assembling this event is to deliver a night of quality hip hop to Atlanta's most authentic fans
and to introduce the emerging Audible Hustle indie label to the city. Fresh off of recently sharing the
stage with names from DJ Scream to Rich Kidz, it's safe to say the momentum building up to June 27th
has been an ongoing focus. Free entry, surprise giveaways, captivating performances, and special guests
will make this the highlight of the summer. Crafted specifically for the people and delivered precisely to
the fans, this isn't one I'd miss! Come network and discover your new favorite indie artist.
When:
Sat, 06/27/2015 - 8:15pm

to

Sun, 06/28/2015 - 12:00am