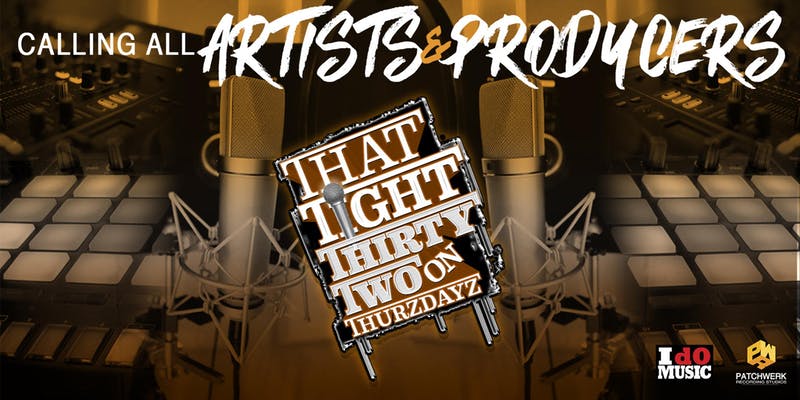 Submitted by
Visitor
on Fri, 09/06/2019 - 11:48am
Patchwerk Recording Studios monthly challenge for artists and producers is back for this month! The goal is to find the best artist who can deliver the TIGHTEST 32 BARS over production from one of the HOTTEST 3 BEATS submitted by a chosen producer every last Thursday of the month. Both artists and producers have the opportunity to gain notoriety through the Patchwerk & IdOMUSIC® Netwerk if selected winner of the month. Prizes include FREE STUDIO TIME, interviews, online promotion, and more.
Check out previous winners: http://bit.ly/pwrtight32playlist
Artist Entry Process:
(Registration ends once 12 artists have been confirmed for our Tight 32 Challenge)
Contestants will be contacted for designated perfomance time.
IdOMUSIC® will send three (3) beats from selected producer of the month Tuesday, September 23, 2019 at 10:00pm, Emcee selects one of the three beats from the producers to perform over.
Producer Entry Process:
(Registration ends Saturday, September 21, 2019 at 5:00pm. The producer of the month will be decided Tuesday, September 23, 2019, on our online producer review show called The Bassline. (Online music review show EVERY TUESDAY, all producers are advised to tune in to the entire show)
IdOMUSIC® will send you a private link to submit three (3) beats for consideration following a confirmation letter.
Winners of the monthly challenge will receive the following:
Tight 32 Verse professionally mixed by a Patchwerk audio engineer
Mixed verse posted on Patchwerk Recording Studios Soundcloud page
Free studio time with Tight32 producer of the month
Spotlight Interview with IdOMUSIC TV
1 Month of Social Media Promotion(Mentions on Verified Patchwerkstudio & IdOMUSIC accounts for Instagram/Twitter/Facebook)
Included in Patchwerkstudio & IdOMUSIC newsletters(22k subscribers)
IdOMUSIC Care Package(custom Tight32 graphic, Tight32 studio performance video, special guest on The Bassline)
***If you don't win challenge the $30 paid to enter will go towards a studio credit to be redeemed for future booking in our Native Instruments Production Studio at Patchwerk Recording Studios.***
Any questions please call 404.874.9880 or email entertight32contest@gmail.com.
When:
Thu, 09/26/2019 -

12:00pm

to

4:00pm