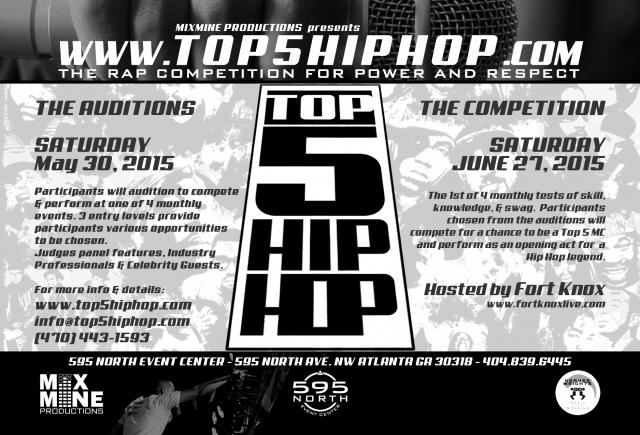 Submitted by
bigtah
on Wed, 05/13/2015 - 5:57pm
DO YOU POSSES THE SKILLS OF A CLASSIC
HIP HOP ARTISTS?
ARE YOU IN-TUNE WITH
WHAT MOVES
TODAY'S FAN?
DO HAVE WHAT IT TAKES TO MAKE A GREAT
HIPHOP RECORD?
Could you be a TOP 5 contender? A new era of HIP HOP has
begun bringing the past eras to light. The search for the Artist that possesses
all the skills we use to Love from the Golden Age of Hip Hop as well as the
understanding of how to compete in an ever growing social media
landscape, has begun. To put it simple...Who can "Move the Crowd" & "Sell
Records". Welcome to TOP 5!
TOP 5 Hip Hop Rap Competition is looking for the best HIP HOP Artists.
Let us be clear, this is more than just a contest of  punch lines, hooks and
popularity ... its about the total package. A true competition not just a battle.
A select few will be chosen monthly to compete...and we will not stop until
we have found our TOP 5.
Learn more about the competition www.Top5HipHop.com.
When:
Sat, 05/30/2015 -

6:00pm

to

10:00pm