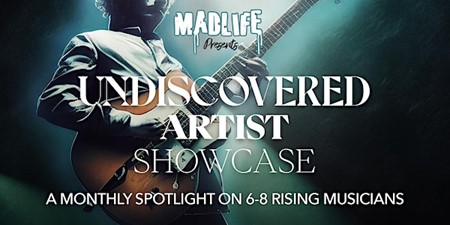 Submitted by
Lyriqnola
on Mon, 04/03/2023 - 7:36pm
MadLife Stage & Studios 'Undiscovered Artist Showcase' is an evening dedicated to local and regional artists, aspiring and professionals alike, giving them the opportunity to take our stage and present their performance and songwriting talents to an audience comprised of people who truly appreciate musicians, original music and live performances.
MadLife typically features 6-8 undiscovered artists for each Undiscovered Artist Showcase.
The 'Undiscovered Artist Showcase', is an event for solo songwriters, vocalists and 2-3 piece acoustic bands. Artists need to apply to perform at the Undiscovered Artist Showcase, and performers are thoughtfully curated by MadLife's local artist development and relations manager. The performance schedule is predetermined by MadLife.
Come on out for MadLife's Undiscovered Artist Showcase and proclaim your support for local and original musicians!
Where:
MadLife Stage & Studios
30188
Woodstock
,
GA
US