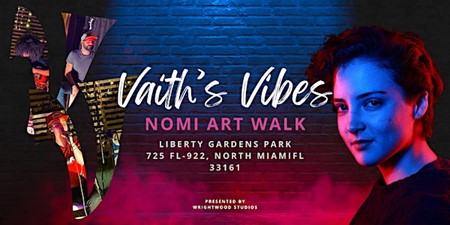 Submitted by
Lyriqnola
on Sat, 11/12/2022 - 1:26pm
What to expect ? Live Music Performances
Special Engagement: an intimate live music by the campfire and beneath the moonlight at Wrightwood Studios Miami. Outdoors and physically distanced.
Gates open at 3:00pm.
Live music 4pm-8pm.
FREE ADMISSION
Join the North Miami CRA as we embrace the arts and diversity of our wonderful community, with a history strongly embedded in the arts. NoMi Art Walk is a FREE event on every third Saturday from 3pm-10pm in Downtown North Miami.
With something for everyone, visit Bridge Red Studios and then make your way to MOCA Plaza where the children can enjoy an interactive art zone. An array of artisans, creators, art lovers and enthusiasts will be sharing their talents. With ample FREE parking, your evening can commence worry-free. Independent, one-of-a-kind, local galleries and chic restaurants dot the 125th Street and surrounding areas. Visit participating venues to experience an awesome night of art, music, food trucks, and entertainment.
Make sure to tell a friend.
Co-presented by: Wrightwood Studios Miami
Wrightwood Studios is a grassroots, black minority-owned community living house. Our dream is to built, curate, and explore spaces that empower our local artists and creators with technology, business-know-how, and mentorship to strengthen our community.
Become a member of Wrightwood Circle for discounted pricing and access to our other events at www.wrightwoodstudiosmiami.com