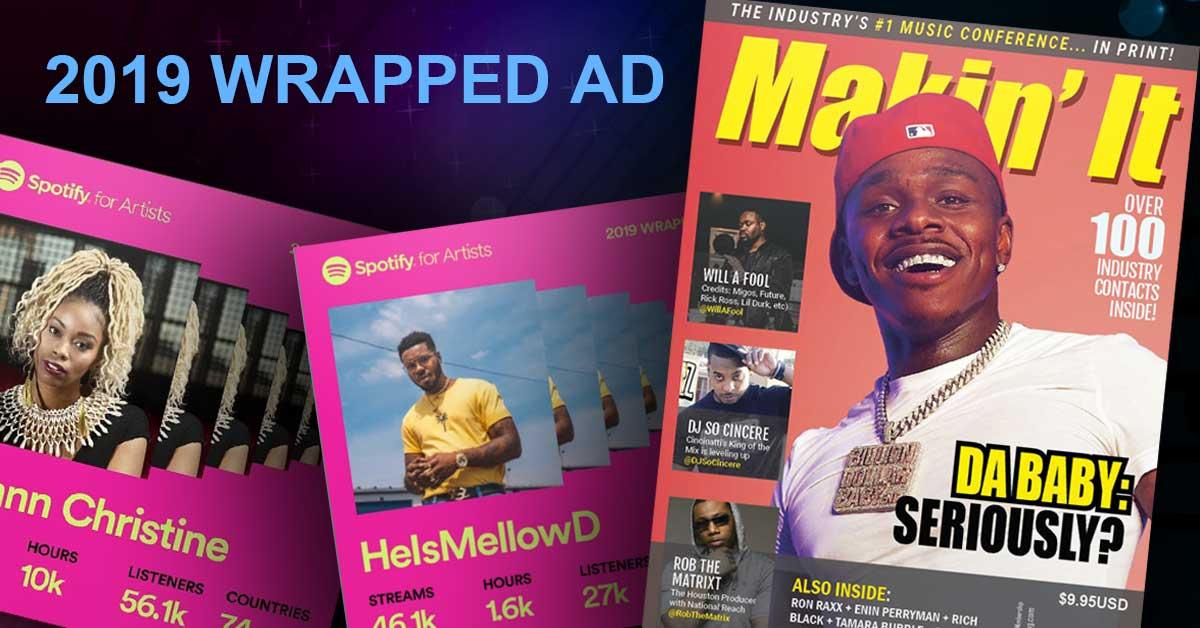 Deadline has Passed
Want to book more shows or features in 2020? Let the industry know what kind of work you put in for 2019!
We've added a special section in the next issue of Makin' It Magazine to spotlight Artists who had an impactful year on Spotify.
If you've downloaded your 2019 WRAPPED and want to show off you numbers... Here's the chance to put them in front of over 100,000 people in the music industry!
Start 2020 off by building on what you accomplished in 2019. Limited spots are availabl so reserve yours ASAP.
DEADLINE
Submissions close at 11:59PM EST on Saturday, December 21st
Opportunity subject to close sooner due to Availability.
WHAT YOU GET
Your 2019 Wrapped will be featured in 15,000 Print magazines distributed to over 300 Recording Studios, Label Offices, Radio Stations and Major Industry Events. This includes visibility to over 137,000 Artists, Producers, DJs, Managers and Industry Professionals. You will also be mailed ONE physical copy of the magazine you're featured in.
For an additional $25 your 2019 Wrapped will also receive a Story Post on the official @MakinItMag Instagram account.
REQUIREMENTS
Promotion is available to all Registered site users.
Placement is $50 for Ad or $75 with Instagram promotion.