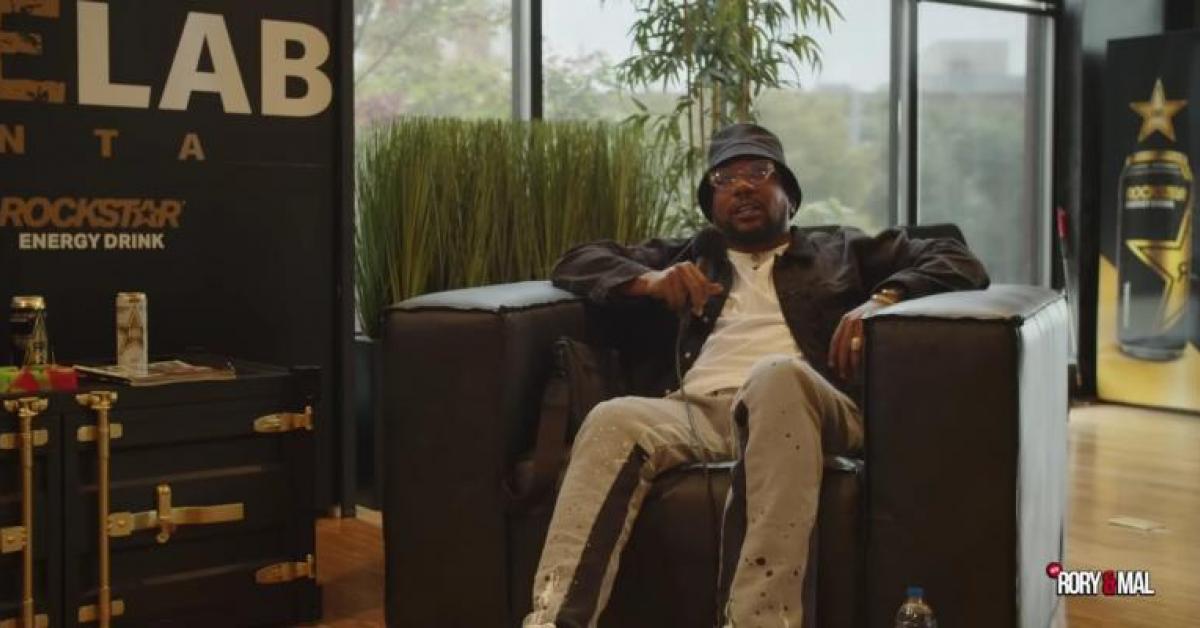 CyHi The Prynce's recent appearance on New Rory & Mal may have gotten a little lost in the midst of some drama - enough to spur not one, but two Joe Budden Podcast diss records AND a viral-ready response from Mal. But all that aside, CyHi actually dropped quite a bit of knowledge on the episode, which premiered on October 15.
The two hour conversation took on a variety of topics. But quite early on, hosts Rory and Mal drew CyHi into a chat about the amount of violence that surrounds the Hip-Hop game these days.
"I think it stopped being about the music when the streets didn't like they homeboys rapping about their lives and they felt like they wanted to," he started. "I hate [that] rappers get this stigma like it's the most dangerous job. This is not the most dangerous job. It's when you let the streets in [that] it becomes the most dangerous job. We have yet to professionalize Hip-Hop. It's always been like a free-for-all anybody can join. [But] n-ggas just can't get in the NBA, bruh!
"When we allowed the streets to dictate the art, I feel like the music industry has turned," he continued. "They don't wanna tell the street dudes no because they scared of them or whatever the case may be. You no longer have to have a Dipset Office or a Roc-a-Fella office in your building, you can just give them a distribution deal. That way you don't have to deal with them."
The ability to work with these artists while still keeping them somewhat at bay makes it easier for the label to distance itself from criminal or otherwise negative behavior.
The No Dope On Sundays rapper went on to add that he has quite a few ideas on how this system which allows a "street" element to permeate the culture could be corrected. One solution he offered would be a tiered structure where artists would be signed to one of maybe three priliminary label situations, which would in turn pay them a flat fee to release music for promotional use only. This system would allow the artists to acclimate to the music business while also giving the label the opportunity to do their due diligence and better invest in who that artist is as a person.
In this tiered system, artist would not be able to sign to a major without that preliminary process. "So when I actually sign you, I'm liable for you," CyHi explained. "For instance, Antonio Brown could punch a U-Haul driver and lose $18 million, 'cause they can't have that on their NFL shield. But a n-gga who rap can beat a n-gga up, shoot a n-gga, go to jail for two months, come out of jail: the label give 'em $50 million. 'Go do it again!'"
The structure CyHi envisions would hold labels liable for the behavior of these artists as their employees. Which would, in turn, require the labels to incorporate a code of conduct into artists' contracts. It would also mean offering real quality of life incentives like healthcare and a pension for anyone who remains signed to the label for a minimum of five years.
"So now I can really release my street," he said. "Because I know, if all else fails, I can really provide for my family, versus having to go back [to the streets] and hustle it up. I feel things like that need to be implemented in rap.
"If you play for the Timberwolves, you live in Minnesota," he continued. "You can't just live in Miami. So if you work for Def Jam, you gotta live in New York. You work with Empire, you gotta live in San Francisco. So it keep you out of your neighborhood. It keep you from having to politic with the streets."
In addition to re-establishing standards to access the industry at a professional measure, CyHi believes that, now more than ever, it's imperative that labels "step in and be that protection" from conflicts that might be attached to an artist's pre-celebrity life.
"The reason why we die in our own hoods is that's where the n-ggas [that] don't like us at," he concluded. "That's where we done shot n-ggas at, they done shot us; they done ran off with a bag, you done hit a n-gga girl. All thype of shit go on in your own community. It happens to us in that space because that's where we at. So I think we just gotta cleat it up. We just gotta professionalize Hip-Hop.
Check out CyHi The Prynce's full New Rory & Mall interview below.