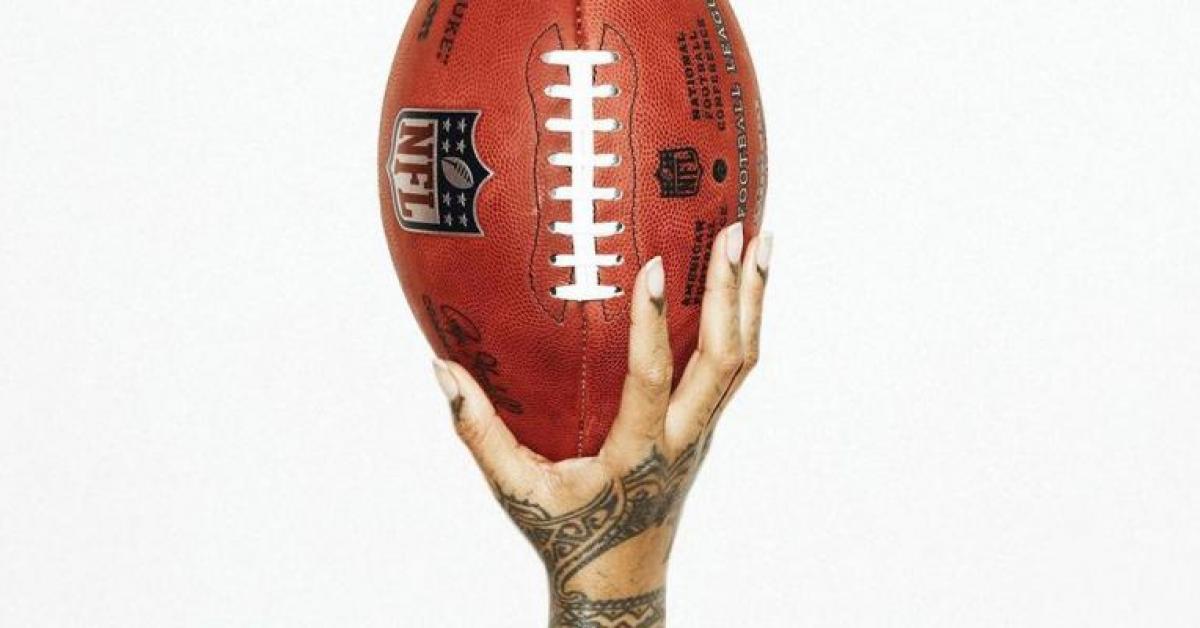 After a five month hiatus, Rihanna returned to Instagram with a simple photo of her tattooed right hand holding an official NFL football. Even before the NFL spelled it out with a statement and their own matching Twitter post, fans knew exactly what was about to go down.
In the early 90s, the league figured out that they could get more people to tune in for "The Big Game" by connecting it to pop culture. They tested their theory out with New Kids On The Block at the height of their game in 1991; and, in 1992, with Gloria Estefan, who was fresh off a comeback tour following a life threatening accident two years prior.
Since then, the Super Bowl Halftime Show has produced some of the biggest moments in popular music: Michael Jackson singing "We Are The World" with a children's choir; Prince performing "Purple Rain" in the rain; the Destiny's Child reunion during Beyonce's 2013 peformance; Lady Gaga diving onto the stage from "the sky"; and, of course, the infamous Janet Jackson incident.
But the Navy — Rihanna's legion of loyal fans — aren't thinking about any of that. By the time Ri hits State Farm Stadium in Glendale, AZ on Februrary 12, it will have been seven years since she's put out a new album. She hasn't even delivered a single or feature in the past five years. So it goes to reason that the minute Rihanna fans heard "Super Bowl," they started cautiously hoping new music will arrive before or immediately following the Half Time performance.
That is, after all, how Beyonce gave fans the first taste of Lemonade: the day before her scheduled appearance alongside Bruno Mars as a guest peformer for Coldplay's Super Bowl 50 performance, "Formation" dropped on Tidal with no prior announcement. The next day, she was on the 50 Yard Line paying homage to the Black Panthers and introducing her audiences to a level of social commentary we had never heard in her music.
Rihanna is, of course, playing it close to the cuff. Since making the Super Bowl announcement, she's promoted everything but music on Instagram. Within a few days of the NFL reveal, the new mom was spotted entering an NYC studio with A$AP Rocky, with whom she welcomed a son in May. But there's no telling whether that was his session, hers, or someone elses.
According to Hits Daily Double, Rihanna is in fact plotting quite a few post-SB moves. "The Super Bowl is generally agreed to be too big an opportunity not to follow up with a major tour," the site wrote earlier this week. "Look for the Harry Styles-style 'traveling residency' to be part of the plan."
In other words, rather than a national or global run with stops in 20 cities, Rihanna will likely settle in a handful of cities for a few days, delivering multiple shows in each city. What the industry is learning, HDD explains, is that by cutting down on travel expenses, concert promoters are able to offer more reasonably priced tickets. And in return, fans are willing to tack on the price of a flight and hotel to the cost of seeing their faves.
If a new tour is in the works, convention would suggest new music is on the way too. But so far, the only rumors about new Rihanna records point to her inclusion on the forthcoming Black Panther 2: Wakanda Forever soundtrack, which should arrive November 11 along with the movie.
The key takeaway is that the most successful creatives know that, when a big opportunity is on the table or on the horizon, you have to be prepared to capitalize on that look. If it's a major press hit, have a website or destination to which to point viewers. If you're going on tour, be prepared to sell merch. If you're going to be on one of America's most viewed stages, immediately launch a new perfume.