Submitted by Kelby
on Thu, 06/05/2014 - 12:15pm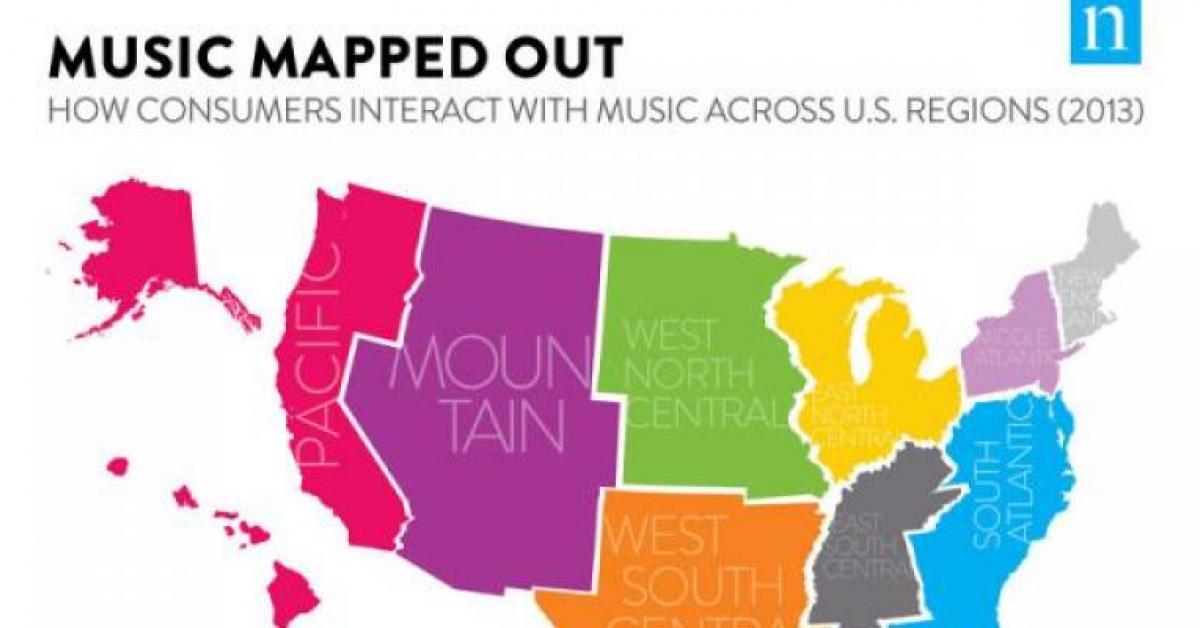 Today I ran across a very interesting report from Neilson. The report breaks the country down into regions and not only gives stats about how people get their music (Streaming, Paid or FREE), but also which devices they primarily use for listening to music (Phone, Computer, Car, TV, etc) and their primary means of discovering new music, beside radio and word of mouth (ie. Youtube, Pandora, Facebook, etc). What's so interesting about the report is in every region, the Car is the #1 device used to listen to music.
One take away from this report is the importance of CDs to promote new music. As independent artists increasingly look for ways to cut promotional costs, I've seen many shift away from CDs claiming that everyone gets their music online. I see more and more download cards and flyers with QR codes floating around. While these may be a cheaper way of distributing music hand to hand, I, like most other Americans, listen to music while I drive. So as indie artists pass me flyers and download cards, I am forced to remind them that I don't have wi-fi in my car as I ask for a CD. I believe many artists are getting in their own way, creating more friction for the listener to check out their music. Compare the following steps involved with listening to music received via the 3 methods.
QR Code
Download QR Code App if not installed
Open App
Snap QR Code
Enable and Connect Bluetooth
Download or Stream music
Download Card
Open Web browser
Enter website to redeem download
Fill out form
Confirm email
Download Music
Enable and connect bluetooth
Open in Music Player
Regular ol' CD
Take it out the case/sleeve

Put it in CD player

Enjoy (Or eject it and throw it out the window)
Click Here to See the FULL REPORT from Nielson and Let us know your thoughts and what information you pulled from it in the comments.
How closely do you align with the stats for your region?

Are you surprised by any of the figures?

Does this information change the way you plan to promote in different markets?